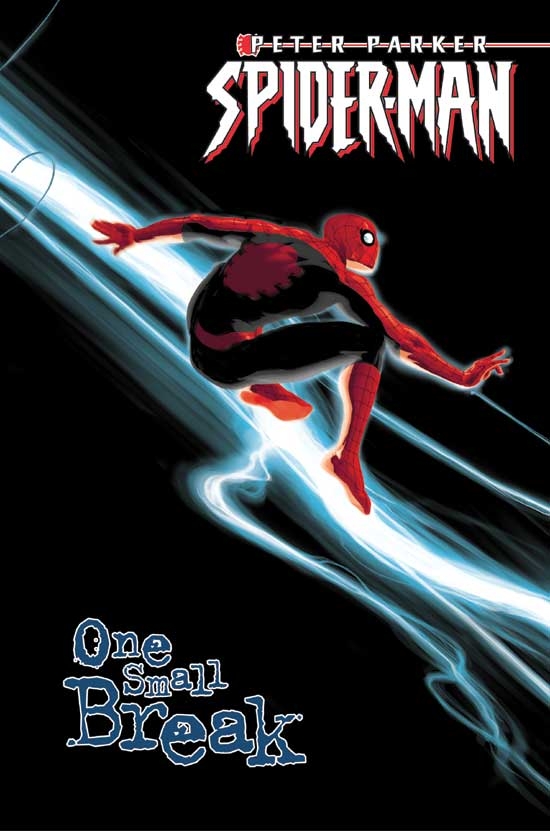 From 2001, Marvel Comics brings us 'Peter Parker, Spider-Man: One Small Break,' a graphic novel of collected issues written by Paul Jenkins and illustrated by Mark Buckingham.
Soon after Peter Parker's break-up with Mary Jane Watson, he is living alone in a single-room apartment. He is going through a rough patch made tense by the appearance of the Robotmaster, one of his worst enemies. To his shock, Robotmaster asks the hero to kill. Later, he encounters Fusion, a deadly villain who seems to be able to conjure any superpower he can think of. Spider-Man has a time fighting him, realizing that his quips only anger the new enemy is boiling with hatred for the hero. These circumstances force him to remember his Uncle Ben and their mutual love for the New York Mets.
Before Marvel went woke, they actually wrote good comic books and stories that showed struggle, pain, and worry that folks like Spider-Man face. It is smart and original, giving the hero several enemies that force him to question his role as a protector and catcher of the bad guys. The artwork at this time is also visceral, showing us the emotion of Peter Parker, masked and unmasked. Instead of having Spidey get lectured about his privilege, we actually see him take on some fearsome foes while showing us why he is one of our favorite heroes.
What do you think? Let me know in the comments below. Tell me if there is a comic book, movie, or novel you would like me to review. While you are at it, check out my reviews of Cyberfrog: Warts & All and JLA: Gods & Monsters. Don't forget to like, share, and subscribe for more posts like this one.
Look for me on social media! Facebook: Author Jacob Airey | Instagram: realjacobairey | Twitter: @realJacobAirey | MeWe: Link | YouTube: StudioJake | Minds: Link | Rumble: StudioJake Media | Gettr: Click Here