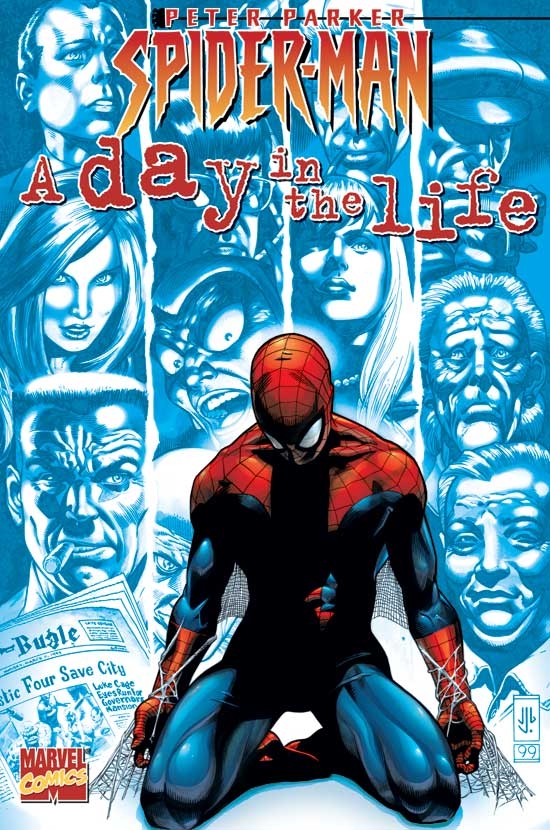 In 2001, Marvel Comics published 'Peter Parker, Spider-Man: A Day In The Life,' a graphic novel of collected issues written by Paul Jenkins who worked with a variety of artists during this run.
Peter Parker is struggling emotionally after the loss of Mary Jane Watson in a plane crash. As he struggles with his new life, he fights crime as Spider-Man where he has some encounters with the Chameleon and the Sandman. Both of his enemies seem to want to have new leases on life, reflecting on their battles with Spidey. In his personal life, Peter is trying to adjust and remember the wisdom of his Uncle Ben, causing him to reflect on the tragedies in his life.
Recently, Marvel Comics, particularly their entertainment studio, has devolved Peter Parker from his mature days back to a teen to attract a younger audience. This comic book series reminded me of the days of reading a mature Peter Parker who faced tragedy while being a superhero.
Jenkins' run during this era definitely highlighted those situations, making you relate to a Spider-Man who faced not just physical threats but overcame them to be a hero. It was when heroes could still be aspirational and I think is something worth remembering.
What do you think? Let me know in the comments below. Tell me if there is a comic book, movie, or novel you would like me to review. While you are at it, check out my reviews of Cobalt: Atlanta's Thrashing and Black Hops Volume 4. Don't forget to like, share, and subscribe for more posts like this one.
Look for me on social media! Facebook: Author Jacob Airey | Instagram: realjacobairey | Twitter: @realJacobAirey | MeWe: Link | YouTube: StudioJake | Minds: Link | Rumble: StudioJake Media | Gettr: Click Here