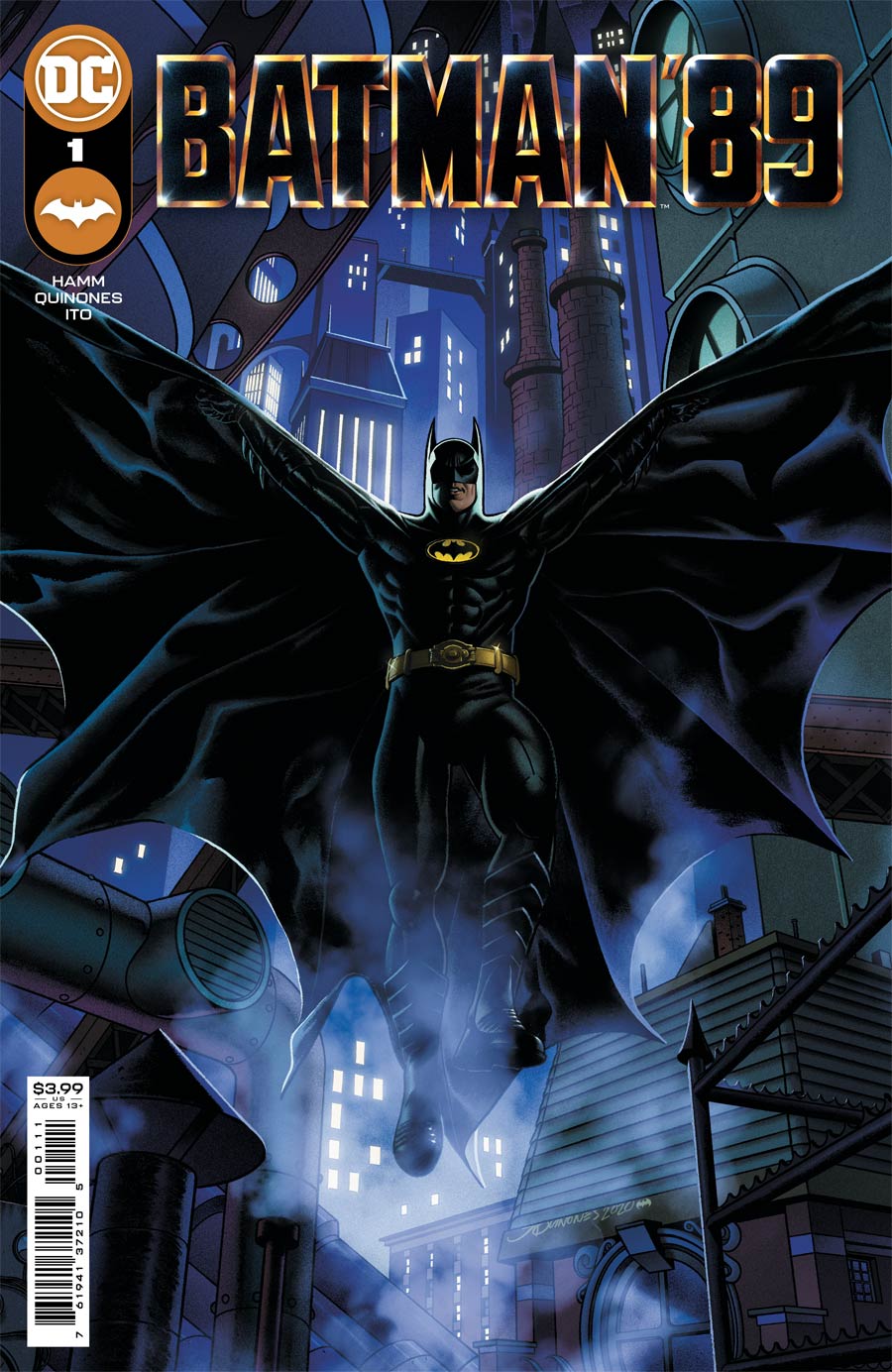 Comic book artist Joe Quinones and Sam Hamm, the screenwriter for director Tim Burton's Batman and Batman Returns, brings DC Comics readers back to the dark deco world with 'Batman 89.'
Despite the best efforts of Batman and Commissioner Jim Gordon, Gotham City continues to be plunged into darkness to the point where the mayor calls in the National Guard to help defend the city. District Attorney Harvey Dent proposes to Sergeant Barbara Gordon, who accepts. Both agree that Jim's reliance on Batman has damaged the city. Dent tries to recruit Bruce Wayne into the scheme, but Bruce refuses to betray his old friend. Batman is caught between a rock and a hard place, knowing that the city is falling into chaos.
Joe Quinones' is an epic comic book artist and he does a good job of replicating the look and feel Tim Burton's dark cityscape from those two films mentioned above. I will say, I do not think Michael Keaton allowed them to use his likeness because Bruce Wayne did not really resemble the actor, but it was a good effort.
When I first heard about this comic book AND that one of the original screenwriters was working on it, I got excited. There was always a plan for a third Burton film and I like them for what they are. When I finally got the first issue, I found myself slightly disappointed. Sure, it had good action, Batman had good appearances, I like the adult version of Barbara Gordon, but outside of that, I was unimpressed.
For one thing, the whole "is Batman really good for Gotham" trope is old with Alfred right along to act as a scold instead of support. We get it, but it is a comic book, not a frickin social studies course. The same goes for the shoe-horned in modern politics being in there. It is not as bad as some other stuff I have read, but geeze, it takes you out of the story. Essentially, it came off as incredibly mediocre. I realize what it was trying to do, but in the end, we will have to see where it ends up.
What do you think? Let me know in the comments below. Tell me if there is a comic book, movie, or novel you would like me to review. While you are at it, check out my reviews of The Chronicles of Panda Khan issue 1 and Offworlder issue 1. Don't forget to like, share, and subscribe for more posts like this one.
Look for me on social media! Facebook: Author Jacob Airey | Instagram: realjacobairey | Twitter: @realJacobAirey | MeWe: Link | YouTube: StudioJake | Minds: Link | Rumble: StudioJake Media | Gettr: Click Here