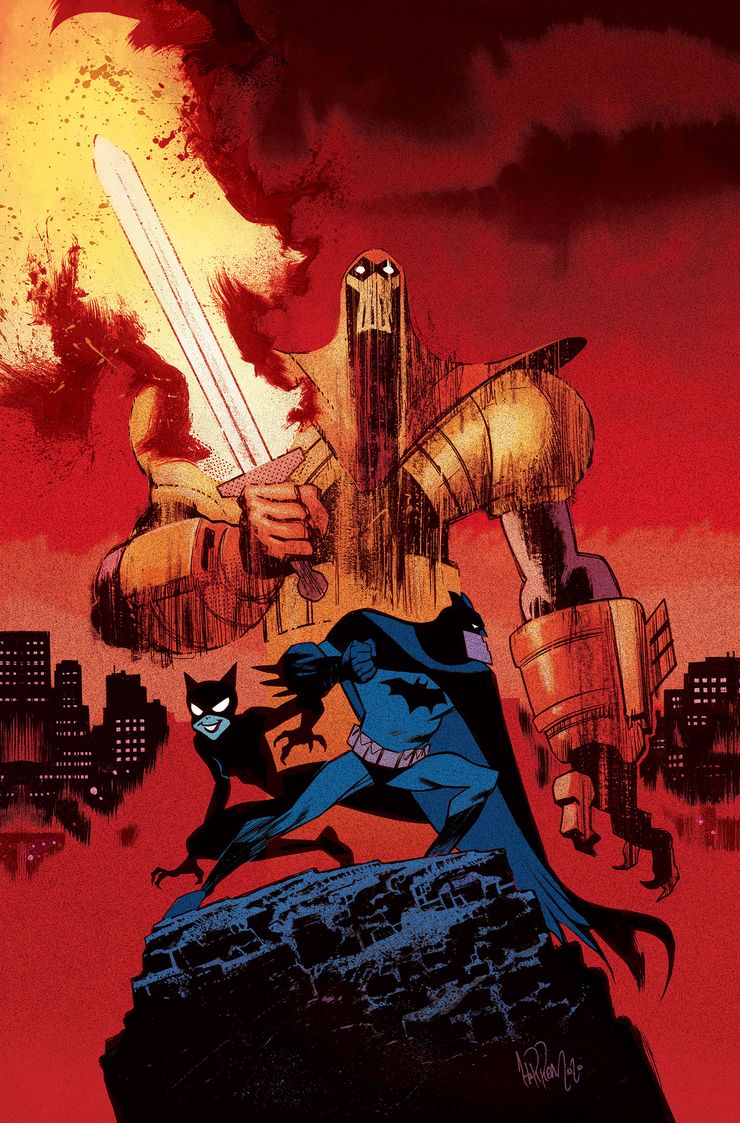 Ready for the next installment? Batman: The Adventures Continue issue four is written by Paul Dini and Alan Burnett with artwork from Ty Templeton and colorist Monica Kubina.
After chasing Catwoman on the rooftops of Gotham City, she is accosted by a mysterious masked man with a flaming sword. After Batman fights off this man and turns Selina over to Commissioner Gordon, the Dark Knight confronts this vigilante, known other than Azrael, who is in Gotham to recover a magical shawl. Despite Batman's warnings, Azrael vows to track down whoever hired to steal the shawl and rain terrifying vengeance upon on them.
Like issue one, two, and three, this story puts a Batman: The Animated Series spin on all of these characters. For instance, Jean Paul Valley aka Azrael, is an ally of Bruce Wayne from when he was training to be the Dark Knight. I thought that this new origin for the character made a lot of sense in the world of the DCAU. Both Dini and Burnett understand these characters and how to bring dynamic story-arcs to this universe. As usual, the artwork is spot on and I liked the "TAS-style" of the Azrael suit and the Azbats armor.
What do you think? Let me know in the comments below. Tell me if there is a comic book, movie, or novel you would like me to review. While you are at it, check out my comic book reviews of CyberFrog: Unfrogettable Tales and Black Hops: Hare Trigger. Don't forget to like, share, and subscribe for more posts like this one.
You can find me everywhere on social media! Facebook: Author Jacob Airey | Instagram: realjacobairey| Twitter: @realJacobAirey | Parler: RealJacobAirey | YouTube: StudioJake