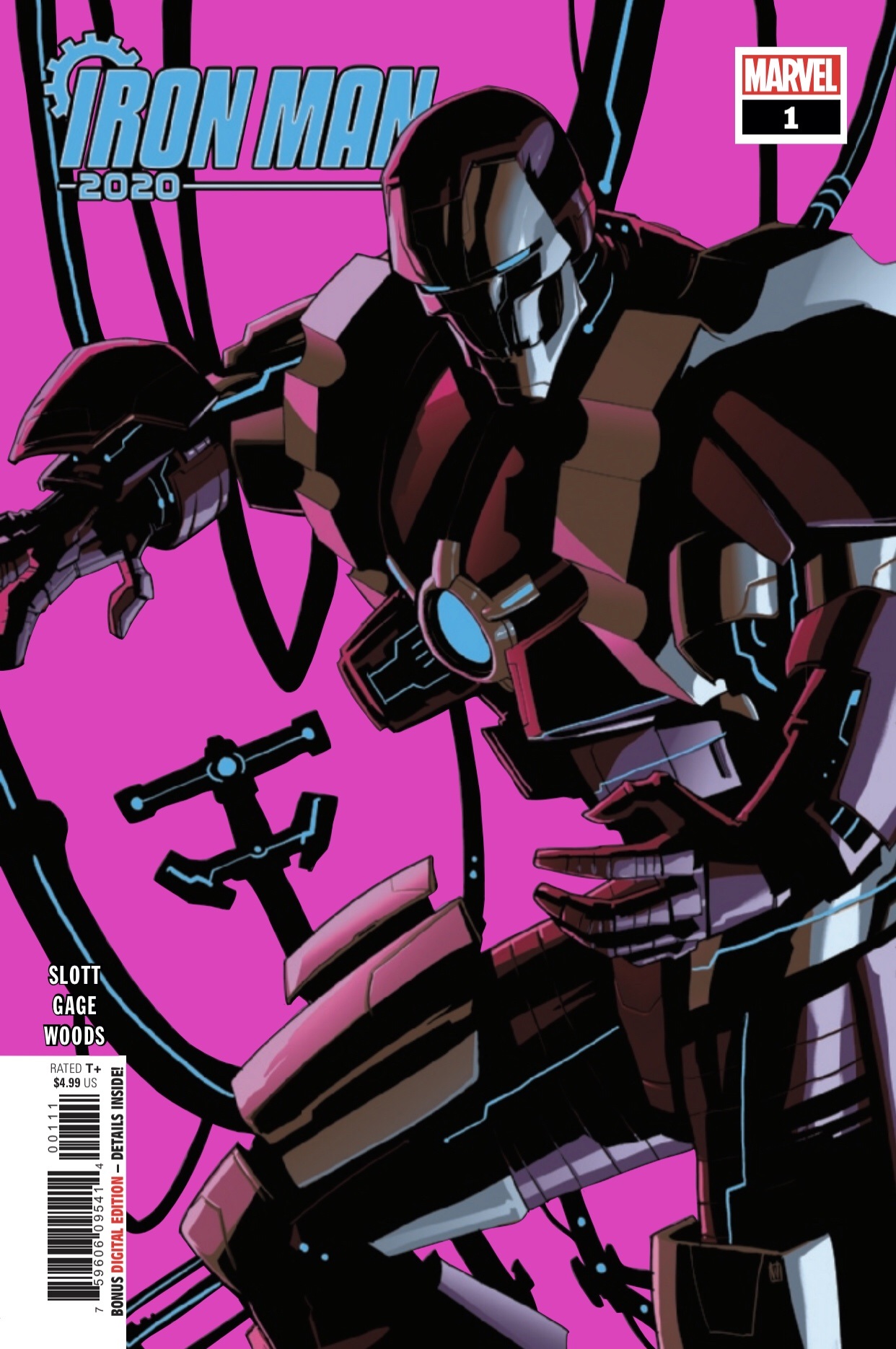 Leading us into the "Iron Man 2020" event in the first issue in the Marvel Comics event. It is written by Dan Slott with artwork Pete Woods, who also did the premiere variant (seen above).
The story takes place after the world discovers that Tony Stark did die at the end of Civil War II (killed by Captain Marvel) and the Iron Man they have known was an advanced AI. Tony's adopted brother Arno Stark and his girlfriend Sunset Bain have taken over Stark Unlimited with Arno parading around the city as Iron Man. He is engaged in a battle with former Avenger and hero Machine Man, who is leading an AI revolt against humanity. Meanwhile, Stark has been spotted in New York City, though Arno and Sunset deny that it is him.
There is no doubt about Pete Woods' talent as an artist, especially with this variant cover. He does amazing designs for all of the characters and while I was not a fan of the Iron Man armor that Arno wore, I still enjoyed the overall designs and illustrations.
My problem is with the story. Arno is an unlikeable character and while that may, in fact, be the point of the story, there was no charm or gravitas that you usually enjoy from Iron Man or Avengers stories. There was also this weird subplot where Arno and Sunset brought Tony's parents back to life as robotic clones. It was made to explain Arno's entrance into the canon, after primarily being a character who was usually in alternate realities to the mainstream events. However, it was unnecessary and kind of droll. The first issue did not pull me into the event.
What do you think? Let me know in the comments below. Tell me if there is a comic book, movie, or novel you would like me to review. While you are at it, check out my comic book reviews of Robotech Remix issue 4 and Lonestar: Heart of the Hero. Don't forget to like, share, and subscribe for more posts like this one.
You can find me everywhere on social media! Facebook: Author Jacob Airey | Instagram: realjacobairey| Twitter: @realJacobAirey | Parler: RealJacobAirey | YouTube: StudioJake