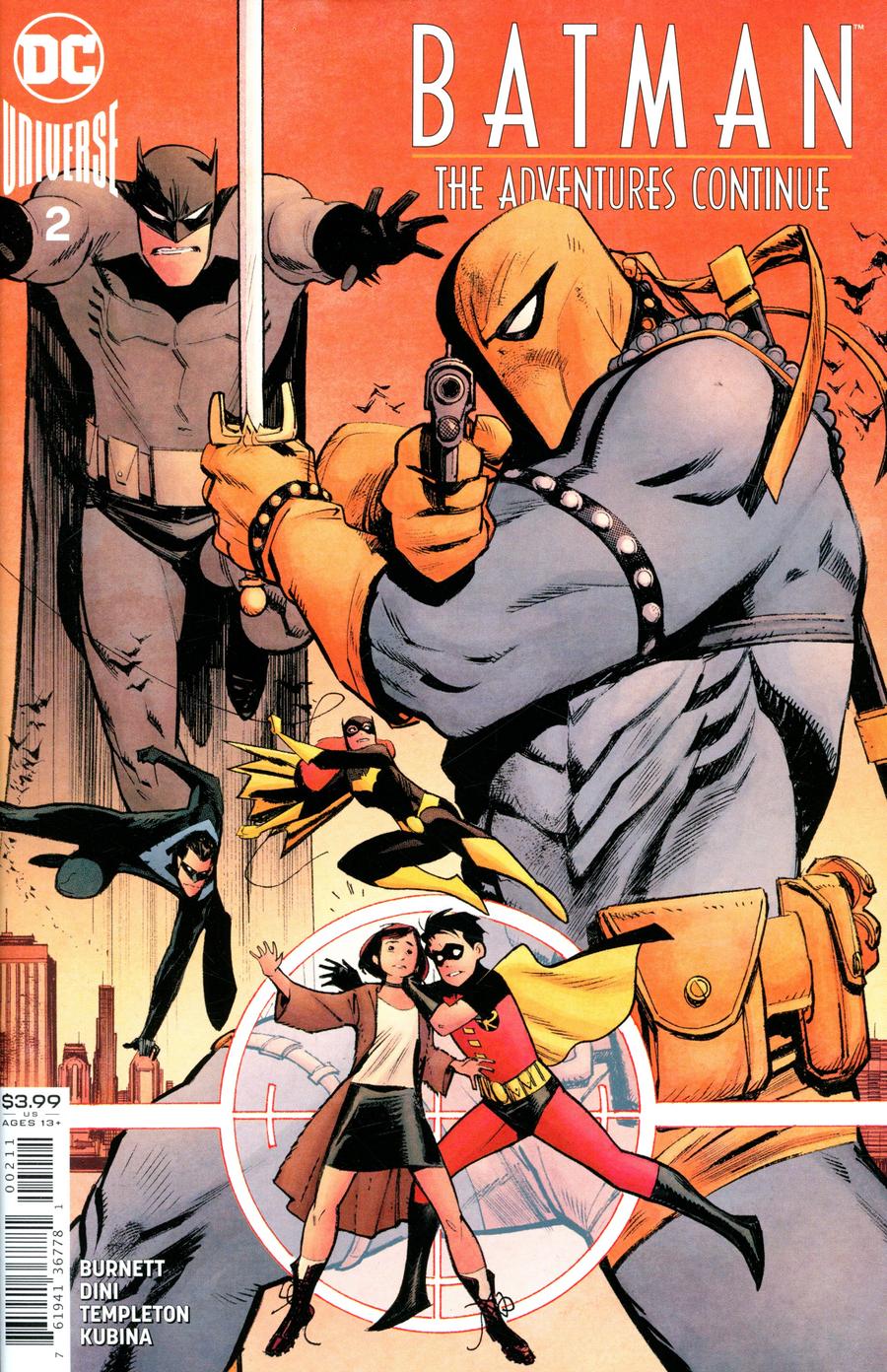 'Batman: The Adventures Continue' issue two is written by the powerhouse team of Paul Dini and Alan Burnett. It also features artwork from Ty Templeton and a pretty cool cover from Sean Gordon Murphy.
When Clayface goes crazy at a Gotham movie theater, Batman, Batgirl, and Robin are all saved thanks to the intervention of Deathstroke who introduces himself and vanishes into the night. While Batman tries to get intel on him, Batgirl meets the merc again and he tries to gain her trust by pointing out she is being watched by the mysterious from the first issue, Despite this, Batman is doubtful that Deathstroke is trustworthy, speculating he has a hidden agenda.
Like its predecessor, this series is meant to be a DC Comics continuation of Batman: The Animated Series, which both Alan Burnett and Paul Dini worked on in the nineties. Their skill at storytelling is top-notch and I really enjoyed their retelling of this classic take on the Dark Knight. While I am not a huge fan of Deathstroke as a character, it was cool to see him be given a fresh take on his relationship with Batman.
As for the art, Ty Templeton does a great job recreating the aesthetic of the Batman: TAS and emulating the "dark deco" design of the show. Likewise, Sean Murphy's cover is excellent and really catches your eye. He does a good job of melding his unique style with the TAS look.
What do you think? Let me know in the comments below. Tell me if there is a comic book, movie, or novel you would like me to review. While you are at it, check out my comic book reviews of The Joker: 80th Anniversary one-shot and Lonestar: Heart of the Hero. Don't forget to like, share, and subscribe for more posts like this one.
You can find me everywhere on social media! Facebook: Author Jacob Airey | Instagram: realjacobairey| Twitter: @realJacobAirey | Parler: RealJacobAirey | YouTube: StudioJake