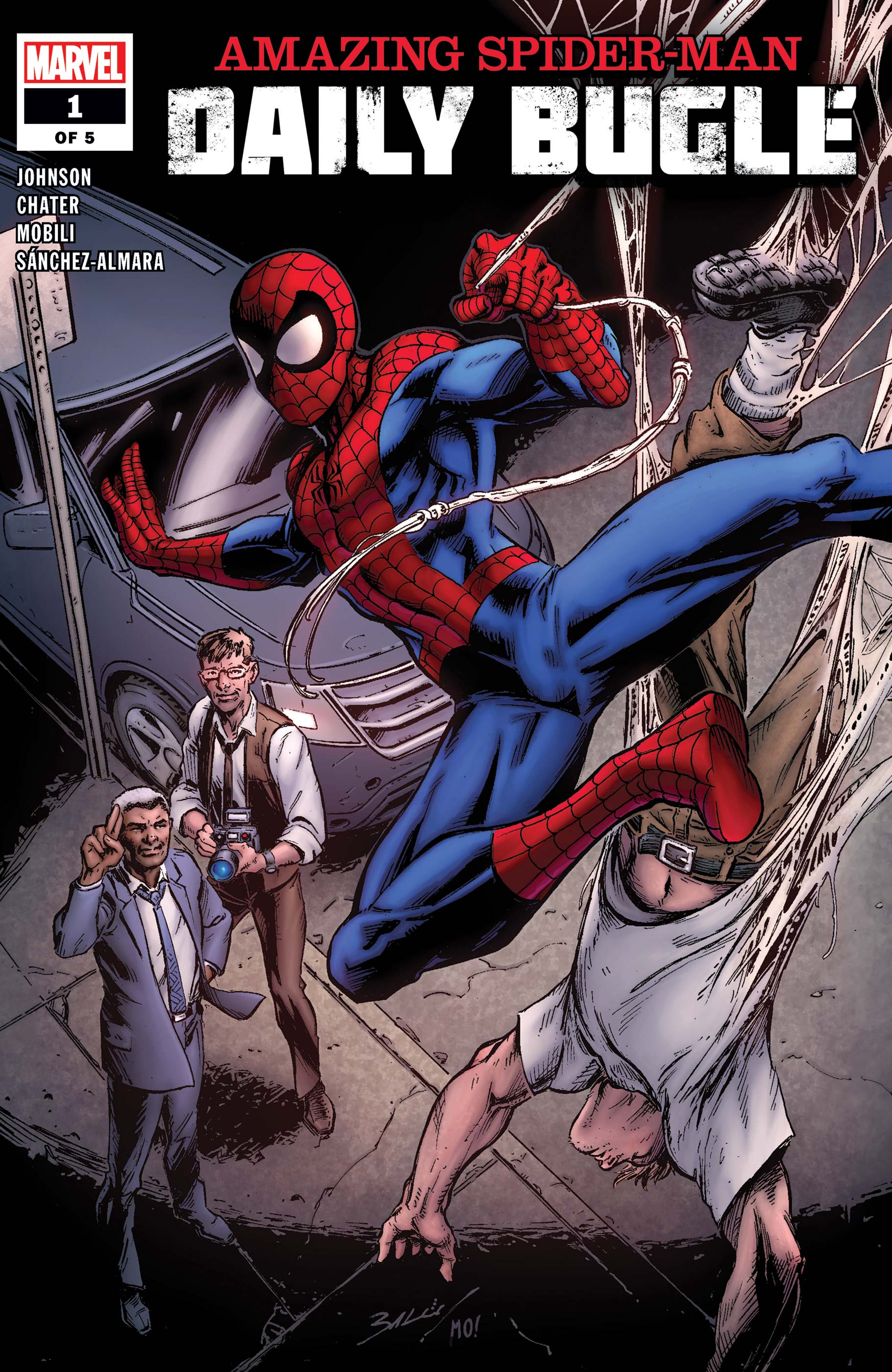 Kicking off a five-part miniseries, Marvel Comics brings us 'Amazing Spider-Man: Daily Bugle' part one "The Hanging Judge" which reopens Peter Parker's first job and is a call-to-action for journalism. It is written by Mat Johnson with fantastic art from Mack Chater, Francesco Mobili, and Dono Sanchez-Almara.
Joseph "Robbie" Robertson is the current editor-in-chief at the Daily Bugle and as the paper loses subscribers, Robbie wants to shift the focus back to investigative journalism, rehiring Peter Parker as a freelance photojournalist and Ben Ulrich is made to be a city journalist while being tasked to mentor Robbie's niece Chloe, a "social media journalist." Spider-Man discovers a conspiracy in a New York City lake, Ulrich is investigating a missing college professor, and Chloe chases rumors of Spidey webbing up the meat-packing district.
Despite the prominence of Spider-Man on the fantastic cover Mark Bagley and Morry Hollowell, Spidey is an afterthought in the first issue. Ben and Chloe are given the most plot time and it is not that impressive. For one thing, Chloe is incredibly unlikable. She comes off as an arrogant jerk and I do not know if the writers intended it to be that way, but it certainly came off that way.
Also, the comic book pushes the narrative that the press is somehow a "noble" endeavor that has simply lost his way. You just end up shaking your head at the ridiculous way that the media is praised and told to make a course correction to "investigative journalism." The media is necessary, but the idea that it is something to be idealized.
Marvel Comics has come a long way from the science fiction and human stories it use to tell. Hopefully, this "part one" will be a blip and we will see more action surrounding Spider-Man, you know, the character that made the Daily Bugle popular.
What do you think? Let me know in the comments below. Tell me if there is a comic book, movie, or novel you would like me to review. While you are at it, check out my comic book reviews for Batman: City of Bane and Robotech Remix Issue 2. Don't forget to like, share, and subscribe for more posts like this one.
Did you know my new fantasy novel "The Seven Royals: All Good Things" is now available on Barnes and Noble and Amazon? You can get your e-book copy at BookLocker.
You can find me everywhere on social media! Facebook: Author Jacob Airey | Instagram: realjacobairey| Twitter: @realJacobAirey | YouTube: StudioJake