Bruce Banner has been turning angry since his creation by Stan Lee and Jack Kirby and his first appearance in the debut issue for "The Incredible Hulk." He has been a villain, anti-hero, Avenger, Defender, but all he wants is to be left alone. While many folks have been taken on variations of the Hulk, I wanted to show off Bruce Banner's power (minus his main form). Here is my list of Top 10 Incarnations Of The Hulk:
10. Old Man Hulk– In a future that could have been, Hulk has become a horrible gang leader and evil-doer. He meets Old Man Logan and they have a terrifying battle.
09. Kluh– The Hulk's hulk. When all hope is lost, the Kluh emerges with black skin, gray hair, and red, scaly lines. He is extremely powerful and bested all of the Avengers with little effort.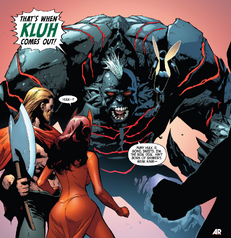 08. Skulk– In the DC Comics/Marvel merged Amalgam universe, as Bruce Banner is about to be exposed to the gamma bomb, Solomon Grundy appeared on the field. The radiation merged the two and now when Banner gets angry he turns into Solomon Grundy.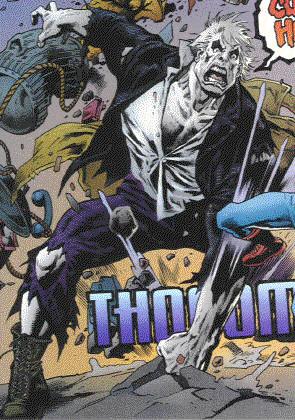 07. Chapter One– In an alternate reality, Bruce Banner is shot by a gamma laser in the 1990s. Instead of the Cold War setting and developing a weapon. Though it was tested as a reboot, it is now considered a non-canon story.
06. Gray (Grey) / Mr. Fixit– The one that kicked it off. After Banner came into contact with that gamma bomb, he would turn gray by the light of the moon, until Banner would learn it was his anger that would cause the change. This version would later become a bouncer in Las Vegas as Mr. Fixit.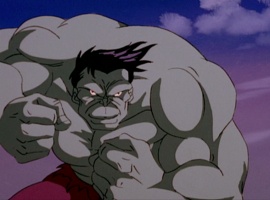 05. Maestro– In an alternate timeline, Hulk became the Maestro, a devious and cunning tyrant who enslaved the Earth with his power.
04. Professor Hulk– Banner managed to merge his genius with the Hulk. Though he still becomes strong with anger, he could still put his scientific mind to good use.
03. Green Scar Hulk– After the Illuminati blasted Hulk into space, he was captured by the Red King of Sakaar. After fighting as a gladiator, he overthrew the Red King and married. However, after the ship that brought him explodes, he takes a band of surviving warriors to Earth and wages war on the Avengers and other heroes he blames for the Sakaar's destruction.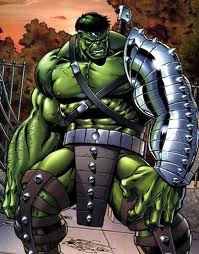 02. Dark Hulk– Appearing in The Incredible Hulk animated series, the Hulk is possessed by a dark entity that uses the Hulk's physical power and only with the help of Dr. Strange can he be set free from the being. This form would appear in the comics.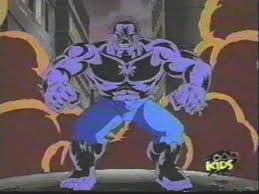 01. Split Hulk– During Jason Aaron's run on The Incredible Hulk comic books, Dr. Doom managed to scientifically split Hulk and Bruce Banner, however, it changes both of them. Banner becomes an obsessed mad scientist and Hulk becomes an unlikely hero, leading you to wonder, who is the monster?
What do you think? Let me know in the comments below. While you are at it, check out my article "Why Conservatives Need To Reach Out To Nerd Culture" and my MCU Tribute Don't forget to like, share, and subscribe for more posts like this one.
Did you know my new fantasy novel "The Seven Royals: All Good Things" is now available on Barnes and Noble and Amazon? You can get your e-book copy at BookLocker.
You can find me on everywhere on social media! Facebook: Author Jacob Airey | Instagram: realjacobairey| Twitter: @realJacobAirey | YouTube: StudioJake